Sailcloth Tents
Sailcloth tents offer a dramatic look with design elements that can be described as having nautical flair. Sculpted peaks, no valance form, and sailcloth material that enhances daytime events with natural light and dramatically glows for evening events. Whether your event is along the coast, at a country venue, or the beauty of your own property sailcloth tents offer a custom and unique feel.
Call (800) 924-8389
Features & Information:
Natural wood perimeter and interior poles.
Durable sailcloth material.
Sculpted peaks with staggered pole heights on some sizes.
No valance form.
Rounded ends.
Translucent material which enhance daytime events by filtering in natural light, and glows with lighting for evening events.
Pennants on the center poles.
Accepts a variety of side walls.
Pole support design that relies upon the tension of its fabric roof in conjunction with perimeter poles, guys, and stakes.
Accessories that enhance the sailcloth tents are oak plank dance floors, cafe string lighting, and wood chairs in a variety of finishes.
Size Available
32' Wide:

44' Wide:

51' Wide:

32' x 30'

44' x 43'

51' x 51'

32' x 50'

44' x 63'

51' x 71'

32' x 70'

44' x 83'

51' x 91'

44' x 103'

51' x 111'

44' x 123'

51' x 131'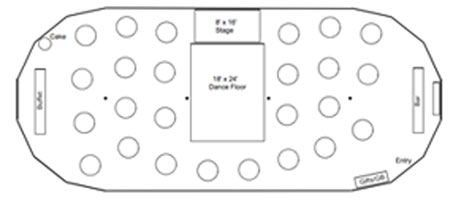 Layout Examples
Special Events of New England uses a professional CAD program to create potential floor plans and plan rentals for your individual event.