Frame Tents
Frame tents offer a traditional look defined by a fabric roof and assembled structure of aluminum pipes. They are a free standing design suited for limited spaces and offer reduced staking and ballasting options. Easily connected together, they can custom fit a property's open areas to meet an event's coverage needs.
Call (800) 924-8389
Features & Information:
Aluminum overhead framing and perimeter uprights. No interior pole supports.
Reliable white vinyl material.
Sculpted valance.
Hip roof design with rectangle ends.
Block out material keeps the interior of tent cooler on hot sunny days.
Accepts a variety of side walls.
Free standing design that uses an assembled framework of aluminum pipes to support the fabric roof and define its shape. Engineered such that no anchoring is required for its support - instead it is needed to hold the unit in place.
Well suited for placing against existing structures or over surfaces where staking is limited or impractical.
Size Available
10' Wide:

15' Wide:

20' Wide:

10' x 10'

15' x 15'

20' x 20'

15' x 30'

20' x 30'

15' x 45'

20' x 40'

30' Wide:

40' Wide:

30' x 30'

40' x 40'

30' x 40'

40' x 50'

30' x 45'

40' x 60'

30' x 50'

40' x 70'

30' x 60'

40' x 80'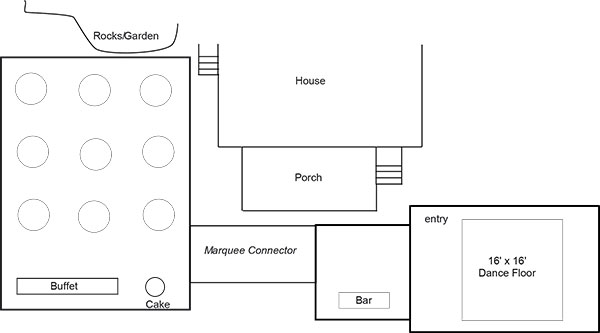 Layout Examples
Special Events of New England uses a professional CAD program to create potential floor plans and plan rentals for your individual event.